Special Church Conference
December 4th at 11:30 am a Special Church Conference will be held at the church to vote on requesting up to $100,000 as a grant from the Foundation Fund to help cover church expenses for the 2021 fiscal year. E
veryone is welcome to attend, only church members can vote. This will be held both in person and zoom. Special Church Conference Zoom Link
Here are some way's we have been cutting costs
We reduced Church staff by not rehiring for the Worship Director or Full Time Custodian positions.

Trustees negotiated a special deal for the new lighting in the sanctuary that was $55,000 less than the original quote.
New LED lighting and motion sensors throughout the church will save considerably on our electric bills.
Improvements including adding outside thermometers and automated HVAC will save the church a considerable amount in utility costs.
Trash and recycling prices were negotiated which decreased the cost. This was a $20 a month savings.

When we switched our internet from AT&T to Spectrum, we also switched our phones over to be able to get a package price.
Judy Yackin has arranged a special relationship with GFS that has resulted in major contributions from them towards our Wednesday night meals.

Special Choir mics were purchased and fully donated by several choir members.

The Church received a donation of a music library from another church that was disbanding their choir.

We arranged to borrow music to subsidize the Fall and Christmas music for this year.

The Choir desired risers but the church could not find them. A set of risers were found on Facebook marketplace and because they were such an amazing deal for a set, they were donated to the church by a choir member.

The Choir's rehearsal piano was not staying in tune. This summer iconic organist Marion Schmidt's granddaughter called the church and donated Marion's personal piano for our use. The moving costs to deliver the piano to the church was also donated.
Thank you! We cannot serve our local community without your financial support.
Youth Group Mission Trips
Trunk or Treat for the Community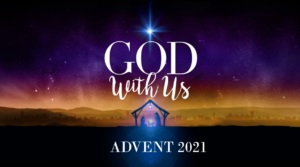 Please see the Advent Activities below: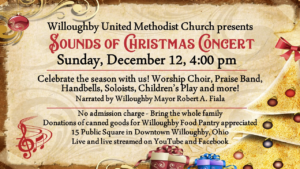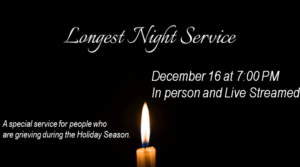 CONNECT WITH US
Follow our social media outreach and stay connected with the latest updates, newsletters and ministry events.

The information on this site is the property of Willoughby United Methodist Church. No broadcasting or duplication of any sermons allowed without permission from Willoughby United Methodist Church.
15 Public Square
Willoughby, OH 44094
(440)942-9068
Office Hours M-F 8:00am-2:00pm