Our Mission: To make and mature disciples of Jesus Christ for the transformation of the world.
Our Vision: To connect people to God and others through Worship, Study & Community Service.
Come as you are. Our church family varies in how we dress.
From jeans to suits, we hope you'll join us in a worship.
"If we clothe ourselves with humility, then no matter how we dress, we will honor and reflect Christ."
– John Bloom
Sunday, June 4th is Communion Sunday. We do have communion cups available at the side door (city public parking side of the building) for those who worship from home.


Sunday, June 4th Worship Link HERE
Sunday, June 4th Bulletin Link HERE
Electronic Attendance Link
HERE
(if you are viewing our service via livestream we would love to know, please complete the Electronic Attendance form)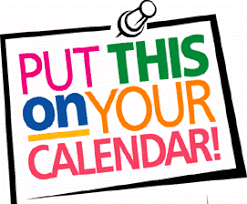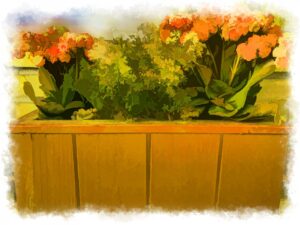 Summer is almost upon us and we're in need of friendly Greeters for our Open Table ministry during the following special Downtown Willoughby events. Two Greeters for each two-hour shift are preferred.
July 6-August 31 Thursday Night Concerts at Point Park 7 – 9pm
June 17 Classic Car Cruise 4 – 8pm
June 20-21 GOBA (Cyclists) concert at Point Park (June 20th) spending night at the church
July 15 ArtsFest: DTW & Point Park 12 – 5pm
August 12 Last Stop Willoughby & Parade 12 – 4pm
Sept 16 Relay for Life: Wes Point Park
Sept 17 DTW 5K Run/Walk 9 – 11:30am
Two greeters are preferred for each shift.
If you would like to be a part of this ministry, Sign Up Sheets are available at the Sanctuary entrance table.
Please contact:
Edwina Jones at 440-278-4988 or
Sue Gerber at 440-289-1298
for information or scheduling. You can also contact the Church Office at 440-942-9068 and they will forward your contact information to Edwina and Sue.
Please consider being a part of this ministry.
Thank you!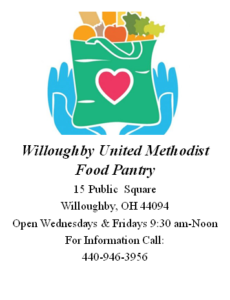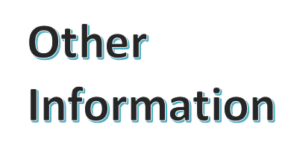 The prayer calendar moved to the Prayer and Care tab at the top of the page.
Bishop Tracy S. Malone Outlines the Pathway for the Disaffiliation and Separation
Link Here
CONNECT WITH US
Follow our social media outreach and stay connected with the latest updates, newsletters and ministry events.

The information on this site is the property of Willoughby United Methodist Church. No broadcasting or duplication of any sermons allowed without permission from Willoughby United Methodist Church.
15 Public Square
Willoughby, OH 44094
(440)942-9068
Office Hours M-F 8:30am-2:00pm
Staff takes lunch 12:30-1:00 pm