Come as you are. Our church family varies in how we dress.
From jeans to suits, we hope you'll join us in a worship.
"If we clothe ourselves with humility, then no matter how we dress, we will honor and reflect Christ."
– John Bloom
Sunday December 3rd, Worship Link
HERE
Sunday December 3rd, Bulletin Link
HERE
Electronic Attendance Link
HERE
(if you are viewing our service via livestream we would love to know, please complete the Electronic Attendance form)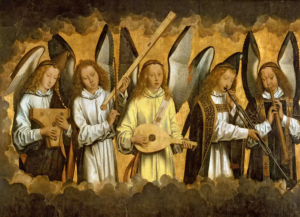 Nov 27- Messiah Foretold
Dec 4- Angels Sing
Dec 11- Creation Sings
Dec 18- In the Manger
Join us on Monday nights for a 4-week Advent study featuring the music of
Christmas. We will examine the rich lyrics of some of our most familiar Advent
and Christmas songs. We will pair this with art and with scripture. Let's have some
fun with some contemporary Christmas songs, too! You are invited to this relaxing
and uplifting time together in preparation for the coming of Jesus Emmanuel, God
with us!
Time: 7-8:15 pm
Place: WUMC Room 5 on the lower level
This class is in person and on Zoom.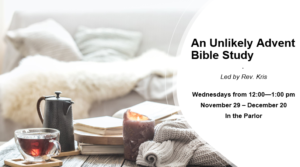 Country Christmas Brunch
Sunday, December 10th
from 1:30 to 3:30 pm
in Fellowship Hall.
$20 for adults, $10 for children 12 and under. Raffle baskets, mystery gifts, delicious food and lots of Christmas fun! Sign up on the website.
Link to register HERE
You may make your payment by check or cash. If paying by check, please make it payable to WUMC with Country Brunch in the memo field. You can conveniently drop off the check at the church office or mail it to:
Willoughby United Methodist Church 15 Public Square, Willoughby, OH 44094.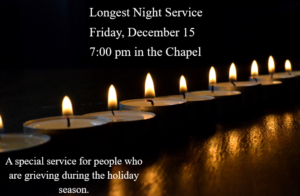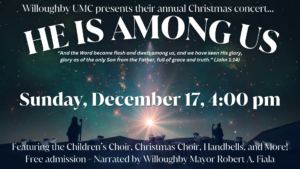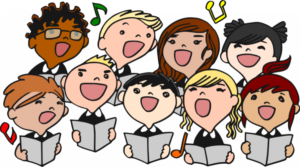 Children's Christmas Pageant
Dress rehearsal is Saturday, Dec 16th at10 am.
Children will perform in worship on Sunday Dec 17th at 11:00 am
and in the Christmas concert at 4:00 pm that afternoon.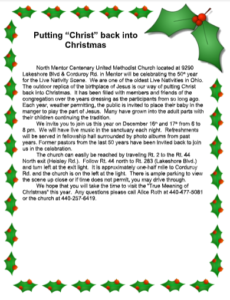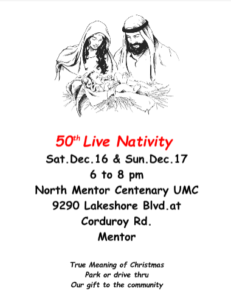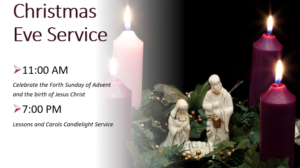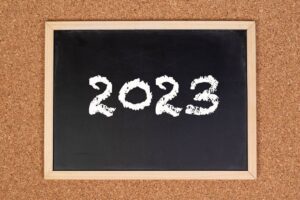 Important 2023 Contribution Information
As we approach the end of 2023, it's important to be aware of a few key details when making your contributions. We will be accepting 2023 contributions up to and including Monday, January 8th.

If you are submitting a contribution after December 31, 2023, and you wish it to be allocated to your 2023 contributions, please follow these steps:

Date the check December 31, 2023.
On the memo line, write: "2023 contribution."
We sincerely appreciate your assistance in ensuring a smooth and accurate year-end contribution process.

Checks not indicating 2023 and dated after December 31, 2023, will be allocated to 2024 contributions.

2023 statements will be available in January. You can pick them up at the church during office hours and after service on January 21st and January 28th. Any statements not collected by January 29 will be mailed. Alternatively, we can email your statements upon request. Please contact the office to arrange email delivery. Your cooperation in picking up statements to save on postage costs is greatly appreciated.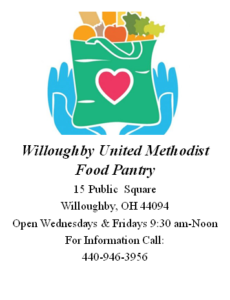 Second Thursday of the Month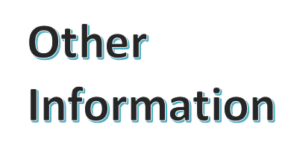 Bishop Tracy S. Malone Outlines the Pathway for the Disaffiliation and Separation
Link Here
District Names

The re-mapping of the four new districts of the East Ohio Conference was announced September 27 and an invitation was extended that day to submit potential names of the new districts, which were designated A, B, C, and D in the release. Thank you for your suggestions. After prayerful consideration and discussion with Cabinet, the names of the new districts are: West Plains (A), South Forest (B), Central Valley (C), and Northern Waters (D).

District Superintendents

District superintendents will serve together in teams to facilitate ministry by working closer with our local churches offering spiritual leadership and oversight, clergy and congregational coaching, strategic ministry assessment and development, shared-learning opportunities, leadership and ministry resources, and district communications.

Read the full re-districting announcement from Bishop Tracy S. Malone.

Access the re-districting pdf for district maps, lists of churches, and more.
CONNECT WITH US
Follow our social media outreach and stay connected with the latest updates, newsletters and ministry events.

The information on this site is the property of Willoughby United Methodist Church. No broadcasting or duplication of any sermons allowed without permission from Willoughby United Methodist Church.
15 Public Square
Willoughby, OH 44094
(440)942-9068
Office Hours M-F 8:30am-2:00pm
Staff takes lunch 12:30-1:00 pm