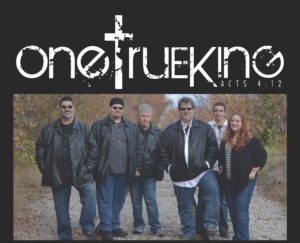 What a tremendous concert and time of worship at WUMC on June 22 with One True King Band and our own Chris Black. The band also led our 9:15 am and 11:00 am Sunday services. If you didn't get to pick up a CD or t-shirt while they were here visit the band's web site at
https://1tkband.com/. You can buy Chris Black merchandise at
https://www.chrisblackohio.com.
Watch our Facebook page and web site for announcements of future concerts.
One True King is a contemporary Christian rock band, reminiscent of yesteryear with a solid classic rock sound—Third Day meets Casting Crowns. Their music looks life square in the eye and doesn't blink. It admits that we're real people with real problems, but it affirms we have a real God with real solutions. Their music blurs genre lines and delivers an authentic message of the forgiveness, restoration and relationship that is available to everyone through Jesus Christ. Fueled by individual testimonies and musical influences spanning nearly four decades, their passion is to reach hurting souls, both inside and outside the body of Christ.
One of our fans described them as "taking bits of classic rock, blues, gospel and funk, throwing it all into a blender and turning it up to 11." Throughout their debut release, "The Nails," you'll hear riffs that pay homage to Skynyrd, 80s hair-metal guitar tones, growling Hammonds, searing synths, blues back beats and even southern gospel harmonies.
One True King is John Woolard, lead vocals and guitars; Tiffany Ivey, vocals; Mike Adomeit, bass and vocals; Mike Stillwagon, lead guitars; Chris Williams, keyboards; and Nick Woolard, drums.
Chris Black
is a well-respected performer in the Cleveland music scene. His versatile music abilities include songwriting, singing, rapping, guitar, and piano.
With three full albums to his name, Chris now sings and performs at his church and continues to release musical hip-hop, with spiritual lyrics that all people can relate to.