Our Mission: To make and mature disciples of Jesus Christ for the transformation of the world.
Our Vision: To connect people to God and others through Worship, Study & Community Service.
Come as you are. Our church family varies in how we dress.
From jeans to suits, we hope you'll join us in a worship.
"If we clothe ourselves with humility, then no matter how we dress, we will honor and reflect Christ."
– John Bloom
November 27th Worship Link HERE
November 27th Worship Bulletin HERE
Electronic Attendance Link
HERE
(if you are viewing our service via livestream we would love to know, please complete the Electronic Attendance form)
Effective January 1, our service will be at 11:00 am.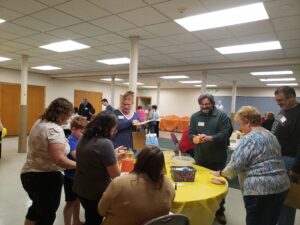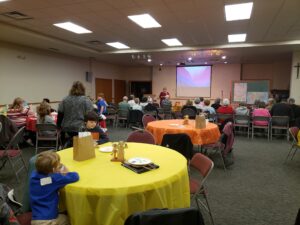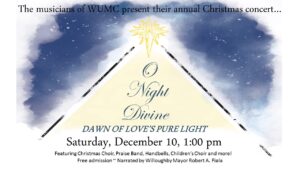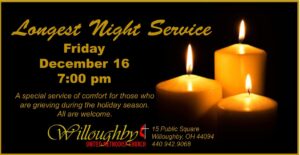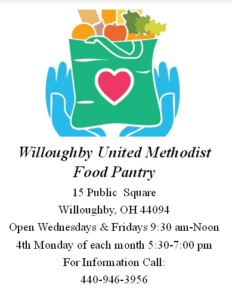 Growing Together
Please take some time to fill out and return your estimated giving form for 2023, You can complete the form either with the card that was mailed out, cards are also available at the church or you can complete the form HERE.
Cards can be returned to the church office in person or by mail at any time or deposited in box located at the church sanctuary exit.
May the hope, love, joy and peace of Christ be with you and yours this season.
The prayer calendar moved to the Prayer and Care tab at the top of the page.
Bishop Tracy S. Malone Outlines the Pathway for the Disaffiliation and Separation
Link Here
CONNECT WITH US
Follow our social media outreach and stay connected with the latest updates, newsletters and ministry events.

The information on this site is the property of Willoughby United Methodist Church. No broadcasting or duplication of any sermons allowed without permission from Willoughby United Methodist Church.
15 Public Square
Willoughby, OH 44094
(440)942-9068
Office Hours M-F 8:00am-2:00pm
Staff takes lunch 12:30-1:00 pm